CH Malyca's Promise Of Glory C.D.X., R.O.M.
Below is Promise, my first "show" doberman that I purchased back in 1983. She was the foundation of Promise Dobes. She was novice owner handled to all of her titles. Her first major, she took Best Of Breed over the #1 Dobe in the country at that time and took a Group placment. She had an outstanding temperament which carries on in our dogs today. I was extremely lucky to have found Promise for my beginning in Dobermans. Promise lived to be 13 yrs and 7 months of age. Her sire was Ch. Tolivar's Boo Radley dob Mann and her dam Fairway Maya of Nilee. The dog on my home page Ch Promise's Bugatti C.D.X., R.O.M. "Radley" is a son of Promise. He was my first home bred Champion out of my first litter. We lost him in May 99 at 11 years of age from complications after surgery. He was sired by Ch. Gerents Eldo Radley dob Mann.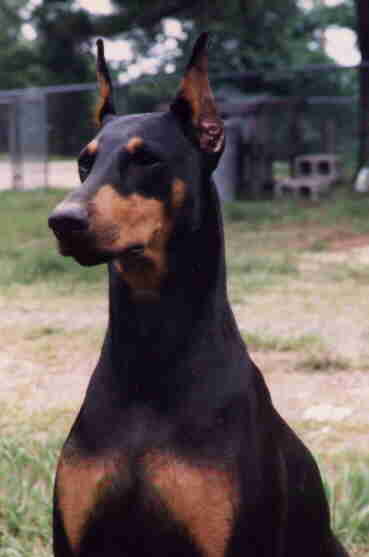 Olympia Dobermans
My husband started in Dobes with Ch Ravenswood Hi-Flyer V Aquarius.
"U.2." went on to become a Top 20 contender in 1992. He was a Multiple Best of Breed winner, Best In Specialty winner and acquired many Group 1's. He was co-owned with Jim Briley of Aquarius Dobermans.
DOG SHOWS
I have been showing and finishing dogs for myself and others for about 20 years. I have finished many Dobermans over the years plus a few other breeds as well, including Vizsla's, German Shorthaired Pointers and German Shepherds.

Contact me for handling fees. I stick with dogs who require little or no grooming. You are welcome to groom your own dog and meet me ringside. Otherwise, short haired dogs (mainly Dobermans) are my specialty.
Ch Olympia Stealth Mirage
"Jet" is a multiple Best of Breed winner. He went Best Of Opposite at the Host Club of the 1997 Doberman Pinscher Club of America National Specialty in Houston Texas. He has sired several Champions including a multiple Group winning owner- handled bitch. He is sired by Ch. GemRose Cavelier V Promise and his dam is Brimor Exclusive Edition who we just lost in 2000 at 12 yrs of age. Jet was born 10-22-93.
Health Testing
All of our dogs are OFA certified, Thyroid tested & VwD tested before being bred. It is very important that you find a puppy from health tested dogs. At this time we have had no dogs with Cardiomyopathy, a heart problem that kills.Be sure you ask what health tests have been run on the parents when looking for a puppy. There are alot of hereditary problems out there that you want to avoid.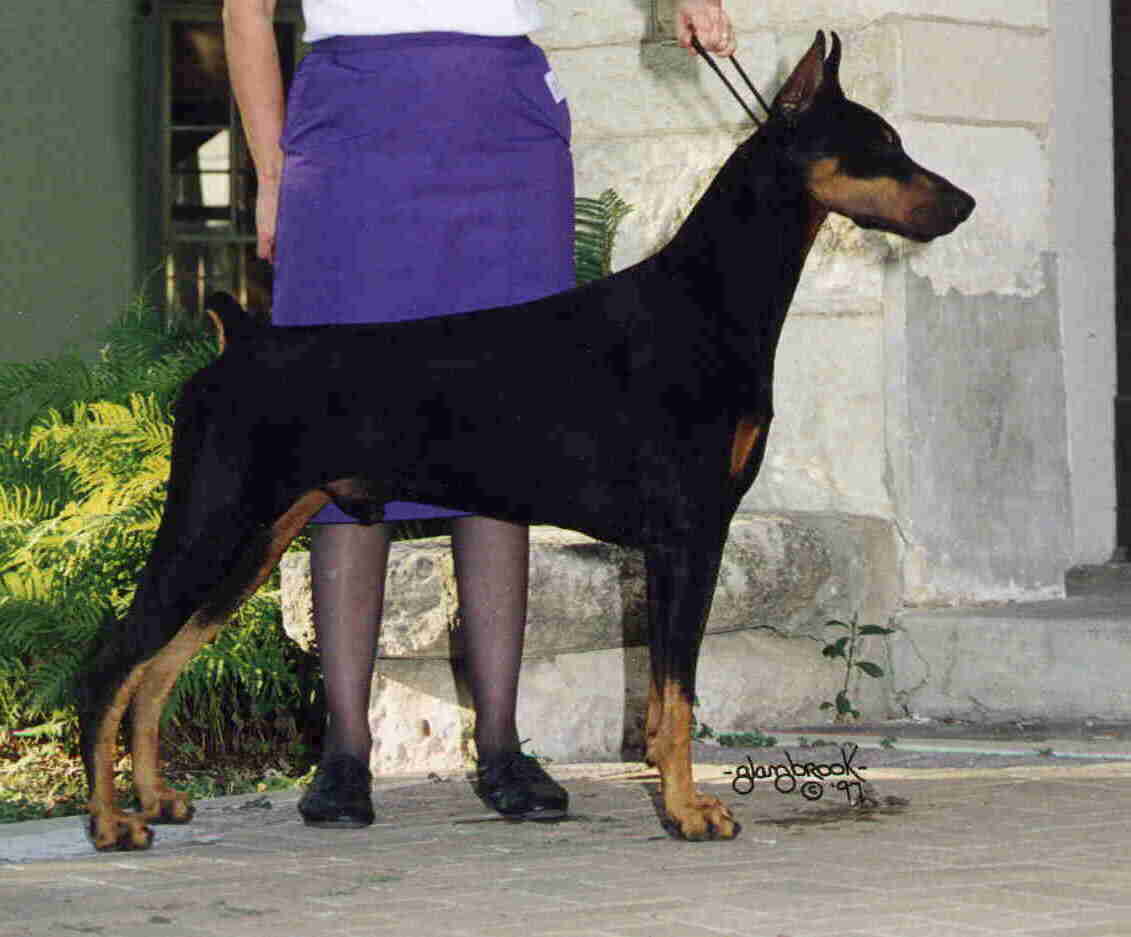 CH OLYMPIA STEALTH MIRAGE "JET"
Pictured at 3 1/2 years of age.
It is with great sadness that I anounce the passing of our wonderful boy Jet. At only 9 yrs of age we had to make the decision to put him to sleep. I've never lost a dog so young which made it that much harder. Sleep Softly Bubby......